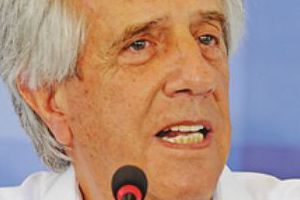 President of Uruguay to Yle: Chinese investors interested in funding groundwork for UPM's pulp project
Summary:
President Tabaré Vázquez's visit to Finland calmed down speculations that UPM's new pulp factory project is almost confirmed. The two parties said that the negotiations are proceeding "in a positive spirit". The article mentions that Stora Enso has a pulp factory in Montes del Plata, which is a joint venture with the Chilean Arauco.


El presidente de Uruguay a Yle: los inversionistas chinos interesaron en la financiación del trabajo preliminar para el proyecto de pulpa del UPM
La visita del presidente Tabaré Vázquez a Finlandia calmó especulaciones que el nuevo proyecto de fábrica de pulpa del UPM casi es confirmado. Los dos partidos dijeron que las negociaciones proceden 'en un espíritu positivo'. El artículo menciona que Stora Enso tiene una fábrica de pulpa en Montes del Plata, que es un negocio en participación con el chileno Arauco.